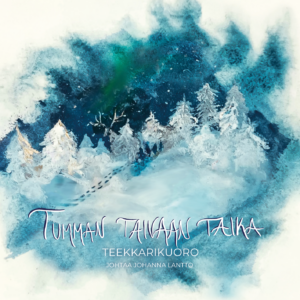 Finnish Yule is a combination of the magic and atmosphere of the dark arctic winter, the light of the sparkling snow and candles, shining hope to the people huddling together. With these themes in mind we set off to plan a Christmas album where we wanted to combine both traditional Christmas songs and new choral music.
The Tumman taivaan taika album contains multiple previously unpublished pieces. Our choir's house composer, an alumnus of the choir Elina Majuri composed two new songs for the album. The titular song Tumman taivaan taika is based on a text written by Katariina Lantto, a multi-talented creator in the field of theatre and culture, and the text for Jouluyö is a poem written by Immi Hellén in 1916.
Composer and choir conductor Sabrina Ljunberg's cheerful Tule armas joulu! is based on an 1870's poem by Sakari Topelius. The mysterious Metsien joulu was originally written for the Finnish vocal group Viisi, and for our album, composer Virpi Eroma has created a new mixed choir arrangement. Rounding out the album we have both traditional versions and fresh arrangements of familiar Yuletide carols.
We wish you enjoyable moments with our music!
1. Joululaulu (Tervehtii jo meitä) 3:42
comp. Jussi Chydenius
lyr. Sakari Topelius
Finnish lyrics - anonymous
© Anthem Oy
2. Mökit nukkuu lumiset 3:30
comp. Heino Kaski
lyr. Eino Leino
arr. Antti Nissilä
© Fennica Gehrman Oy
3. Jeesuksen seimellä 2:57
comp. Raimo Tanskanen
lyr. Lempi Vihervaara
© Sulasol
4. On hanget korkeat, nietokset 2:36
comp. Jean Sibelius
lyr. Wilkku Joukahainen
arr. Timo Lehtovaara
© Fennica Gehrman Oy
5. Jouluyönä (Oli luolassa hiljainen ilta) 3:21
comp. Mikko Sidoroff
lyr. Sonja Kosunen
© Sulasol
6. Hiljainen Gloria 3:05
comp. and lyr. Antti Nissilä
© Sulasol
7. Jouluyönä (Koristeissaan kiiltää kuusi) 1:41
comp. Teuvo Hakasalo
lyr. Helena Eeva
© Ylioppilaskunnan Laulajat ry
8. Joulukirkkoon 2:38
comp. R. Raala
lyr. Immi Hellén
arr. Merja Rajala
© Warner/Chappell Music Finland Oy
9. Tumman taivaan taika 5:19
comp. Elina Majuri
lyr. Katariina Lantto
solos: Emmi Vuorinen, Hanna Rauhala and Jani Tarmila
10. Jouluyö 4:18
comp. Elina Majuri
lyr. Immi Hellén
soolo: Noora Haimila
11. Kuu hohtaa 3:38
comp. Jussi Chydenius
lyr. Einari Vuorela
© Anthem Oy
12. Metsien joulu 4:22
comp. Virpi Eroma
lyr. Lauri Pohjanpää
13. Tule armas joulu! 2:09
comp. Sabrina Ljungberg
lyr. Sakari Topelius
Finnish lyrics - anonymous
© Sulasol
14. Maa on niin kaunis 3:32
Silesian folk song
lyr. Bernhard Severin Ingemann
Finnish lyrics Hilja Haahti
arr. Merja Rajala
solo: Maija Lundell
Conductor: Johanna Lantto
Producer: Tampereen Akateemiset Laulajat ry
Artistic producer: Saara Aittakumpu
Recording, editing and mastering: Kuisma Eskola
Cover art and graphic design: Katariina Kirves
Photos: Tuomas Mikkolainen
Album committee: Aapo Alasuutari, Noora Haimila, Elias Halkola, Sami Hartala, Tomi Lahtimo, Sampo Lahtinen, Johanna Lantto, Jenni Pakula, Emmi Vuorinen
Recorded in Teisko church, Tampere, in May 2022.
Support Foundation of Tampere University of Technology, Academic Engineers and Architects in Finland (TEK) and Tampereen ylioppilastalosäätiö Foundation have supported the making of this album.
Teekkarikuoro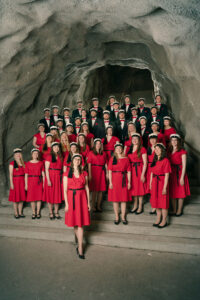 Founded in 1985, Teekkarikuoro is one of the most prominent student choirs in Tampere. Having been active for more than 35 years, the choir prides itself in making ambitious music with a relaxed attitude, all the while maintaining high quality. The core repertoire of the mixed choir of approximately 50 members consists of pop music and classical choir pieces, and also includes modern choir music and drinking songs. Each year the choir organizes competitions for arranging new choir music and writing drinking songs, which add to the choir's repertoire of original music. The choir also commissions new music from different composers.

The choir is based at the Hervanta campus of Tampere University. Most of the members are students and alumni of technological disciplines but the choir welcomes all, regardless of their field of study. The choir members spend a lot of time together, organizing different events and activities. There is also a smaller a cappella group, TeekkariKvartti, that performs independently.

Tumman taivaan taika is the third album by Teekkarikuoro, and the previous records are Tuopin täydeltä (2010) and Alussa oli insinööri (2016).
Johanna Lantto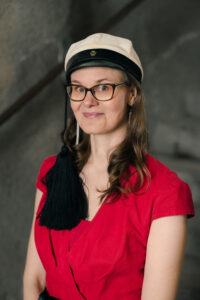 Johanna Lantto is a choir conductor, musician and M.Sc. of environmental engineering from Tampere who started her journey with Teekkarikuoro as a choir member in the year 2000. She has conducted Teekkarikuoro from 2006 and is thus the choir's longest-standing and most influential conductor. Lantto holds a bachelor's degree as music pedagogue, majoring in choir conducting, from Pirkanmaa University of Applied Sciences and she graduated as a Master of music pedagogy from Tampere University of Applied Sciences. Lantto has conducted various choirs in the Pirkanmaa area including the children's choirs of the Tampere Conservatoire and the mixed choir Pikantit. She plays the accordion and the piano, and sings in various classical and popular music ensembles. Lantto has received the Tampere University of Technology's Student Union's medal of honour for her cultural work at the university. 
Tumman taivaan taika
lyr. Katariina Lantto
Talviko hiljainen? 
No ei. Sitä se ei ole tänään.

Pimeässä tuikkivat pikkuiset valot,
ne kuiskivat:
Etpä vielä tiedäkään 
sitä mitä me tiedetään
Katso ylös korkeaan pimeyteen
jo ehkä arvaat
Kuuletko jo? Tunnetko jo?

Juuri tällä hetkellä
napapyörteiden äärellä 
vinhasti aurinko viskoo vauhtia
Hiukkaset magneettiset
toisiaan viritellen
kyljestä kylkeen
värejään venytellen

Punaista, vihreää, loimuaa, leimahtaa
mustan talvitaivaan täyttää
Punaista, vihreää, loimuaa, leimahtaa
mustan talvitaivaan täyttää loitsullaan

Ja hiljaisen matkan takana
lumen koskemattoman luona
repolainen nuuhkii tuulta ja tuhahtaa:
kuulkaas pienet tuikkivat valot siellä kaukana,
tuo tumman taivaan taika
on tekosia toverini tuuheahäntäisen

Punaista, vihreää, loimuaa, leimahtaa
mustan talvitaivaan täyttää loitsullaan