Teekkarikuoro has published two albums: Alussa oli insinööri and Tuopin täydeltä. You can buy both in our web shop. verkkokaupastamme. Marraskuussa 2022 julkaistaan kuoron joululevy Tumman taivaan taika.
Tumman taivaan taika
Teekkarikuoron kolmas levy, ensimmäinen joululevy, Tumman taivaan taika julkaistaan jouluksi 2022. Levyllä kuullaan perinteisiä, jo tutuksi tulleita joululauluja, mutta myös uusia levyä varten sovitettuja ja sävellettyjä teoksia. Lisätietoa levystä ja sen hankkimisesta tiputtelee syksyn aikana kuoron kanavissa aina jouluun asti. Pysy kuulolla!
Alussa oli insinööri ('In the Beginning, There Was an Engineer')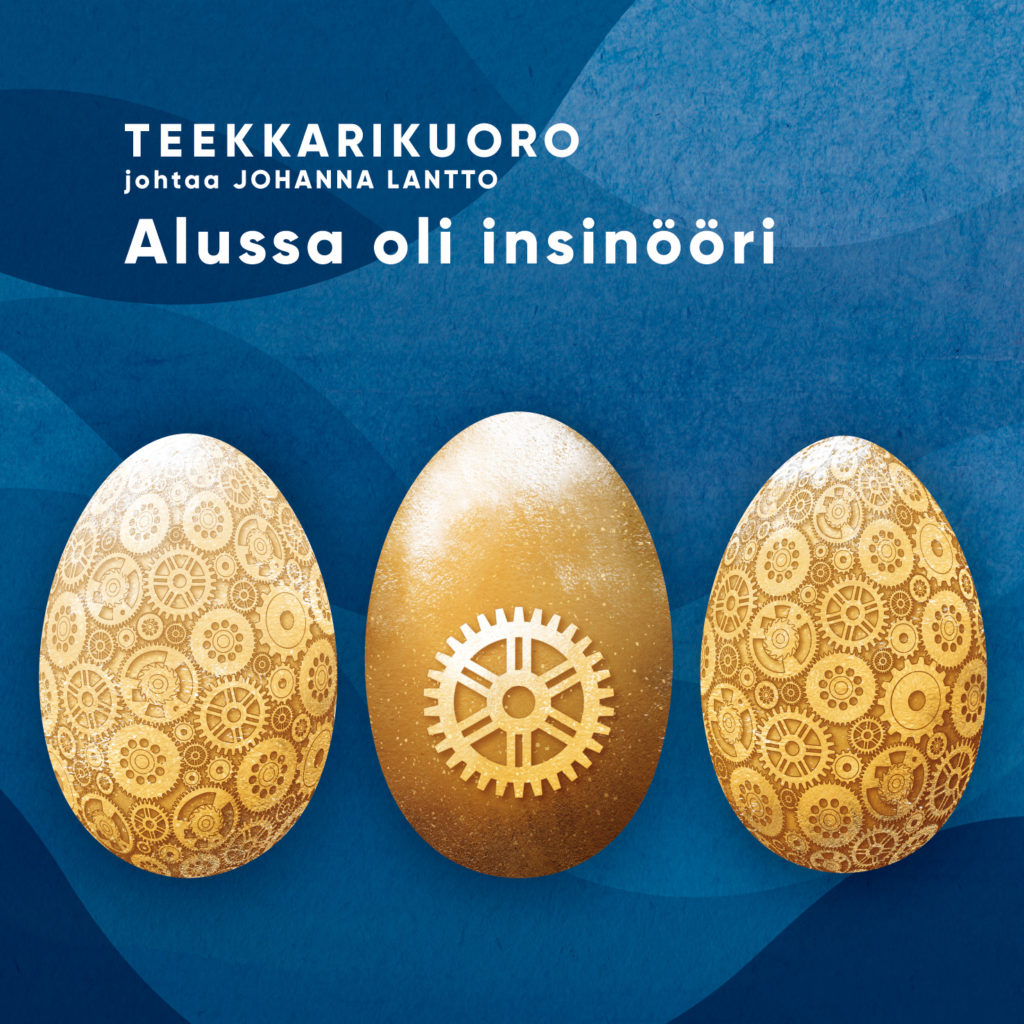 Tampere and the essence of being a teekkari are the recurring themes of Teekkarikuoro's second album. The traditional teekkari song Teekkarihymni got new lyrics and was switched from minor to major and so Tampereen teekkarien juhlahymni was born. Drinking songs were of course an indisputable addition to Teekkarikuoro's album. The teekkari song potpourri Teemu Teekkari (includes the hit song Pesupallo ) was also recorded. Huuan mie humalattakin , on the other hand, is a kind of an anti-drinking song whose lyrics come from a poem in Kanteletar . It was composed for the choir by Jussi Tamminen, a composer and a conductor who also used to influence in Teekkarikuoro. Other compositions commissioned for this album were Canon Indeed that was composed by Jaakko Mäntyjärvi and Alussa oli insinööri that was composed by Anna-Mari Kähärä and whose lyrics are by Sinikka Nopola. This humoristic cantata was composed to celebrate the 50th anniversary of Tampere University of Technology.
The album was recorded in April and November 2016 in Kangasala-talo, and published on the 29th of November 2016.
Join us on a journey into the world of technology. You may be surprised.

Tuopin täydeltä - 25 years of drinking songs
Teekkarikuoro's first album Tuopin täydeltä was published in March 2010. There are brand new drinking songs on the album, but traditional songs from the song book Rasputin have not been forgotten either. Most of the 21 songs on the album are part of Teekkarikuoro's standard repertoire but there are also new arrangements made specifically for Teekkarikuoro. The album has been recorded in May and October 2009 in Festia hall in Tampere University of Technology and in the Teekkari sauna Mörrimöykky in Hervanta.